Dyck Livant, George Ormsby, Kathleen Ormsby, and Jessie Calhoun, arrived as requested by Dudley at 3PM at the firm's office.
The ship, which can carry over 7,000 vehicles, initially had to discharge BMW vehicles it had taken on at Bremerhaven to another dock in Newport. So we went for something to eat, and returned in time.
We donned our yellow reflective vests, and were driven over to the ship, and walked up five floors to the first 8 vehicles.
We started all these vehicles, and made sure they were warmed up. Because of the Steevedors' Union, we did not drive the vehicles to the parking area on land. We then walked up to the next floor, and started up the next 5 vehicles. We did our best to ensure they understood about having the hand brake rotated and pushed right down fully.
There were still about 1,500 vehicles to land, Rovers, Mercedes, and Nissans I believe. We looked at the cars in the parking area later to be sure the keys had been removed from the ignition switchs.
Jessie was filming the exit of each vehicle from the hold of the ship while we were upstairs.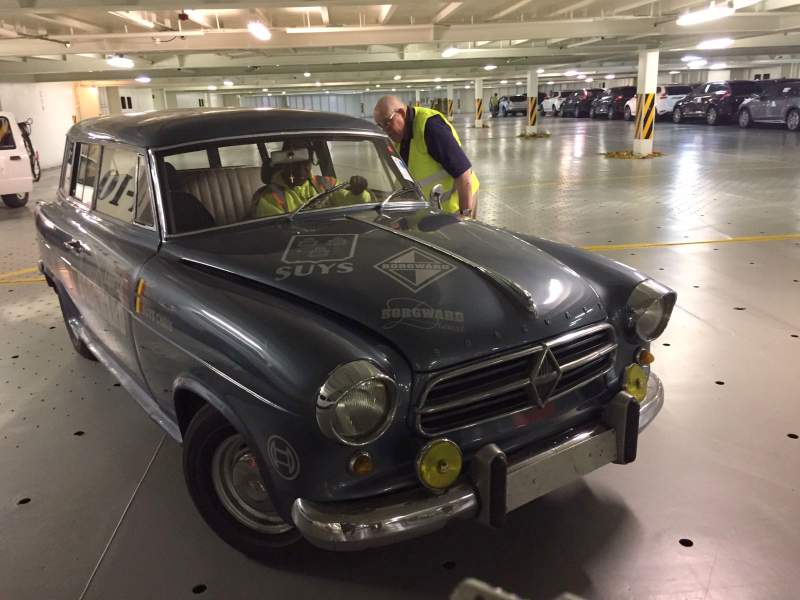 Many thanks to our team in New York, volunteers and Borgward enthusiasts, George, Kathleen, Dyck and Jessie, for this fantastic support at the unloading process. Special thanks to Dudley from the vessel s side.